7 Ways To Save on Shipping Costs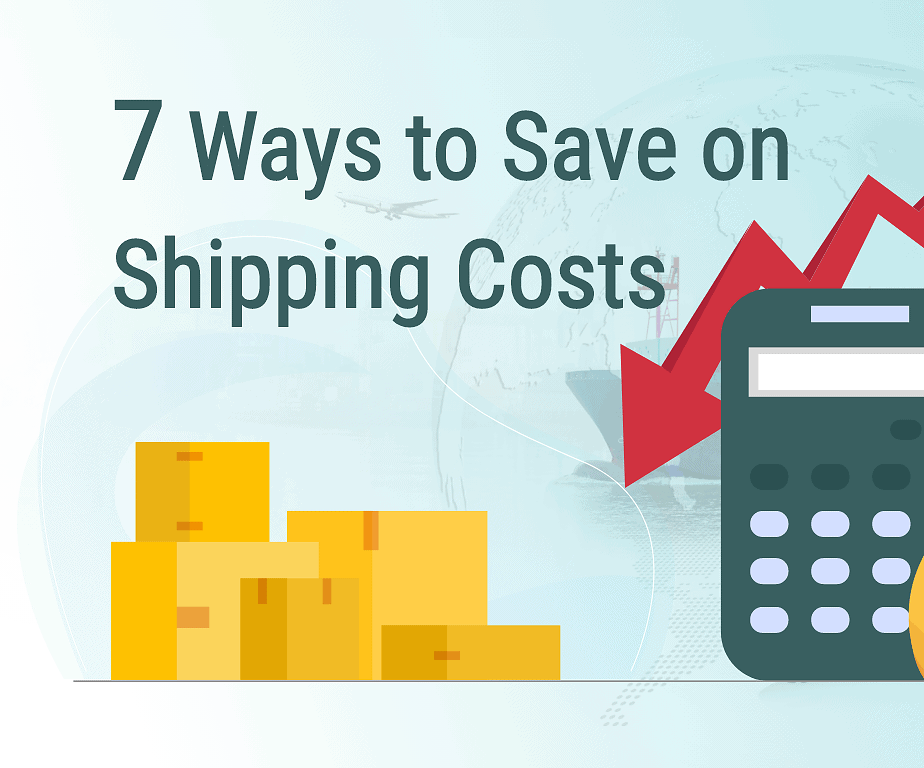 There are a lot of costs associated with starting your own eCommerce business. Of course, shipping is one expense that will always be present. Unfortunately, one of the most expensive costs you'll have to bear is shipping. The following factors will influence shipping prices:
Delivery velocity

How many shipping zones the cargo travels through

The product's dimensions, weight, and packaging

Shipping insurance

Order tracking and confirmation of delivery
That is a lot to think about. But did you realise that you would be able to cut your delivery costs quickly? Here are a few strategies to ship your small business for less money!
1. Agree to Rates in Writing:
Many small eCommerce companies believe they don't ship frequently enough to be eligible for carrier discounts. However, it's crucial to understand that you don't necessarily need to ship products to Amazon to receive a cheaper rate! If you're doing as little as 100 shipments a month, you can frequently negotiate discounts with your carrier by getting in touch with their contract shipping services department and talking to a representative about your business. When you do this, make sure that you or your shipping manager are aware of your estimates, volume, and shipping needs. That will make other carriers like UPS, FedEx, and others pay notice. You get the greatest deal, make sure to bargain with several carriers. If a carrier is aware that you are thinking about switching, they could be prepared to work with you to keep your business and lower delivery costs.
2. Request Refunds:
The bad news is that more than 6% of FedEx and UPS parcel shipments in 2019 were delayed, according to Multichannel Merchant. The good news is that you are entitled to a full refund on that shipment under their Money-Back Guarantee policy, even if it is only a few minutes late! Of course, the caveat is that they force you to start the refund procedure, which many businesses either don't bother with or are unaware of. Yes, keeping an eye on your account might take a lot of effort. However, if you ship frequently, seeking credits for service errors, overcharges, weight disparities, and other issues can pile up and substantially lower your shipping expenses. It's also crucial to remember that you have 15 days from the invoice date to request such reimbursements, so you don't need to keep track of it constantly.
3. Keep Pick-Up and Delivery in Mind:
Why travel further to your carrier's facility to transport your goods when you are already so busy? To save time and money, look for a carrier that offers free pick-ups and deliveries. Although you'll have to adhere to their pick-up schedule, it can be worthwhile!
4. Create Your Postage:
You may be aware that you can print mailing labels at home, but did you realise that you can also print postage there? Of course, the requirements for printing postage for goods vary amongst carriers. Once you comprehend them, you can print them directly from your computer to save money. To make the procedure even simpler, several carriers additionally provide unique software that interfaces with your own.
5. Select Budget-Friendly Packaging Supplies:
While some packaging supplies are required, especially when shipping sensitive items, the prices can quickly mount. Even while branded packaging is excellent and improves the consumer experience, you might need to wait to implement it until you're bringing in more money. To save your shipping costs, buy plain, conventional packing supplies in quantity, such as boxes, bubble wrap, air cushions, and more.
6. Use third-party insurance, number six:
Overcharging clients for insurance premiums is one way UPS, FedEx, and other carriers make money. You undoubtedly already know how expensive insurance may be if you're transporting precious goods. In general, carriers charge about $.80 for every $100 of insurance. However, there are alternative third-party businesses that only charge a small portion of this, often approximately 45 cents per $100, such as Parcel Insurance Plan (PIP) and U-PIC Shipping Insurance. You could save almost half that way!
7. Take Dimensional Weight into Account:
Many small businesses are unaware of the benefits of applying dimensional weight to shipments because it is a relatively recent practice for carriers. Here's how everything got started. Carriers began to lose money on large, yet light, things about five years ago. Large things like these took up a lot of room on their trucks but brought in little money. So they started charging for whatever gets them more money—the actual weight of the package or the "dimensional weight"—and adding this "theoretical" weight to shipments based on how much volume the package occupies. Finding a carrier that doesn't use this method will probably be the most affordable approach to carrying huge products if your packages typically weigh less than the dimensional weight.
Conclusion :
Maintaining competitiveness in the market is crucial. Additionally, providing a superior level of client experience is just as crucial as growing your profit margins. One aspect of a company that can be challenging to master is shipping. You must streamline the procedure to cut costs associated with running your company while also considering the needs of the client. The best advice is to research your customer personas and structure your strategy accordingly. Additionally, you will increase your shipping expenditures as your business expands. However, costs might be reduced for your organisation with wise practises and effective planning. To save more such costs in your business, talk to our expert and run your business with 100% efficiency by using our various logistics solutions.