A system to manage your complete logistics business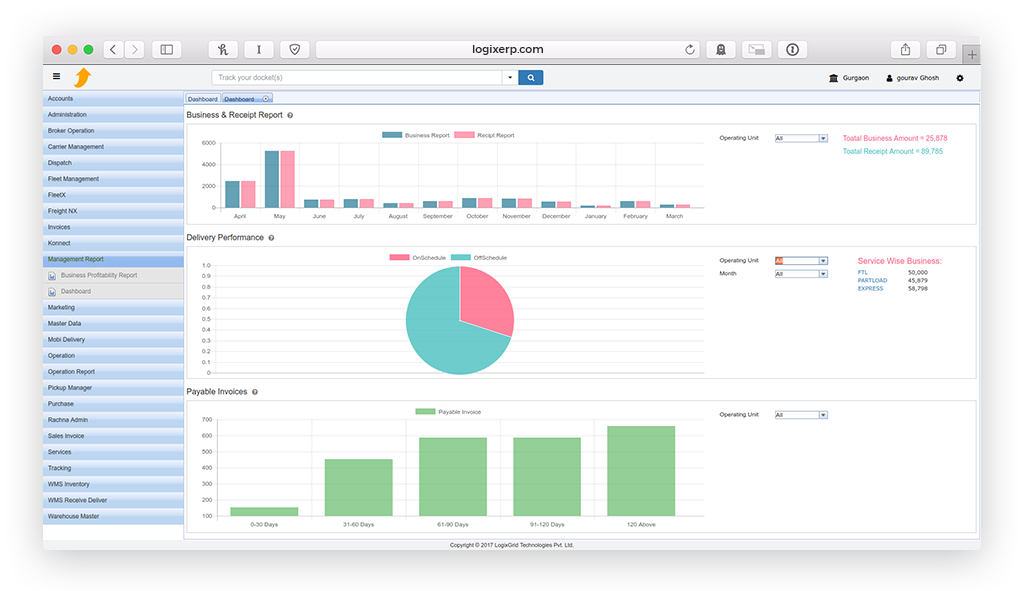 View your business and receipt report customer wise with a single click on the graph.
Monitor delivery branch wise sitting in head office just with a single click.
Check branch wise outstanding invoices of your company.
Extended features and functional modules for any type of logistics business

Accounting
Multi-currency accounting software with powerful receivables, payables, costing and ledger functions.

Invoicing
Easy operation based on user's comfortability with completely customizable invoice formats.
Delivery
Manage vehicles and multiple stop over trips through simplest process catering business need.

Transhipment
Manage pickup for standard and reverse logistics through customer portal now, let your customer choose pickup type.

Tracking
Scanning, COD, POD, distance wise delivery estimation, auto-route suggestion.

Pickup
Live shipment tracking on the system , website through APIs based on multiple criteria.

Vendor Management
Multiple types of vendor management with their complete details and accounting.
eCommerce Logistics Ready
Fully support Intra and Inter country eCommerce Logistics
Cash on delivery – E-Signature, POD capture, card swipe payments.
Courier management – Last mile delivery, 3PL carriers, Multiple tracking history.
Return to origin – Well designed process for re-scheduling and notifying clients.
eCommerce API integration – Directly receive and execute orders for delivery.
companies in 8 countries run businesses on logixERP
packages are getting tracked
One Application. Many Advantages