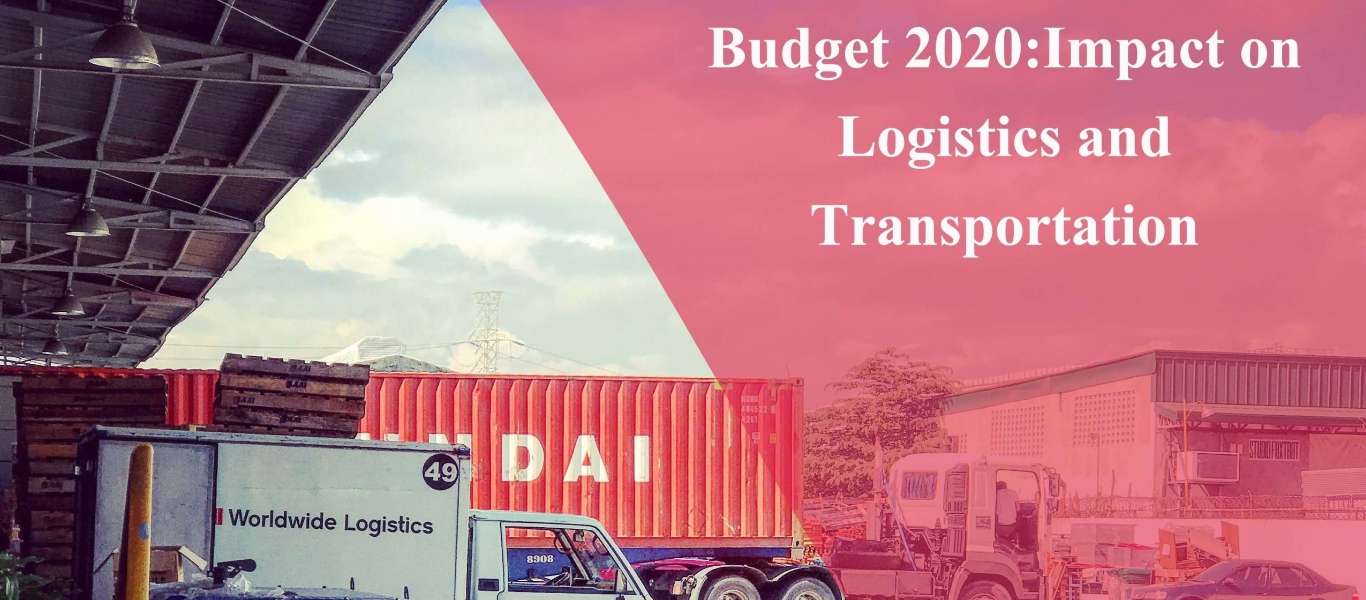 Finance minister Nirmala Sitharaman delivered her Union Budget 2020-21 speech on February 1.
Higher logistics costs lead to higher export expenses, which impacts the intensity of Indian products in foreign markets. While the logistics sector is ruled by transportation, containing 85% as worth, trailed by warehousing that contributes the rest 15%, key changes in the transportation can help to significantly cut down the general logistics cost.
Consequently, the budget has accompanied various positive updates for the logistics and transport sector. INR 1.7 lakh crores of funds are allocated for logistics and transportation infrastructure including railway infra upgrade, and investments in warehousing and logistics. Budget 2020 Going ahead, we anticipate a progression of strong activities, as compelling execution of National Logistics Policy (NLP),
Rationalization and relaxation of duties for warehousing , push for digitization in the sector & boosting green supply chain initiatives and spotlight on making a skilled workforce for logistics and supply chain. Explaining further on the key regions of change as under:
1. Focused approach for logistics development :
While there are a ton of logistics infrastructure projects in the pipeline declared in this budget with a goal of improving transportation network, an engaged way to deal with logistics would assist with quick developments. The Union Budget also declared the apportionment of Rs 1.7 lakh crores for transport infrastructure, promising to monetize 12 highways, spread over 6,000 KMs, by 2024. A critical way will be to push towards infrastructure development, which, besides the roads and railway network, will also include creating supporting bases in terms of warehouses, storage facilities etc.
2. Streamline process to GST and warehouse leasing :
While the execution of GST has streamlined a few procedures, it has affected the renting of warehouses. Tax subsidies and relaxation in the indirect taxes for warehouse renting can support the development of 3PL providers and warehousing operators. India has an estimated capacity of 162 million MT of agri warehousing, cold storage, reefer van facilities etc. NABARD will undertake an exercise to map and geo-tag them. With introduction of National Logistics Policy (NLP) under which development of warehouses would provide impetus for increasing warehousing supply which is expected to rise from 211 million sq. ft in 2019 to 379 million sq. ft in 2023. Net absorption of 36 million sq. ft in 2019 will get a further boost.
3. Encouraging Digitization (Automation) :
In a bid to ramp up the pace of the Digital India initiative, the government has now increased the outlay for the budget to INR 3,958 Cr for the financial year 2020-21 which will include the promotion of automation and digitization for the logistics industry. While a few global players, driven to a great extent by the eCommerce boom, have actualized implemented the latest technologies like IoT, AI based Transport software and Cloud Logistics ERP System for smart warehousing and logistics, supporting policies and encouragement for digitization is currently the need of great importance. To guarantee India figure out how to reach at objective of reducing Logistic expenses to 10% of GDP from the current 14%, executing tech-enabled smart logistics solutions are important.
4. Developing Skills, A key challenge :
Lack of un-qualified labor stays a big challenge for the industry. With technology and innovations in the cold supply chain, specialized warehousing, and digitization, it has become compulsory to have a skilled workforce that is well prepared and productive. While logistics keeps on being one of the biggest employment generators, a large portion of its labor is utilized in transportation. Specialized and fast developing sectors catering pharma, agriculture, meat and dairy, remain crippled with a handicapped workforce.
5. Promoting Green SCM :
Road Transportation stays probably one of the biggest contributors of air pollution, particularly in urban regions. While freight forwarding across railways and roadways is a more environmentally feasible option, these are at present ill-fitted and damaged with long journeys and delays.
Moreover, setting up of a green supply chain, with reasonable warehousing, utilization of electric vehicles and recycling of packaging material and so on., is yet to become standard and cost-efficient.
LogixGRID's complete logistics software and transport software are capable to manage all types of logistics business and operations single handedly. LogixERP (Cloud Logistics ERP) which can handle your supply chain demands and warehousing operations and can be integrated easily with all the third-party software to give more insights about your business along with all the invoicing, billing and accounting. Logix.Network (AI-Based Transport Management System) is an advanced TMS for Manufacturers and Shippers to manage complete Inbound and Outbound Logistics and gives an upper hand to manage their operations more efficiently and gives upper hand amongst their competitors by saving cost and operational time.