Why E-commerce Marketplace Integration Is Crucial For Multichannel Sellers?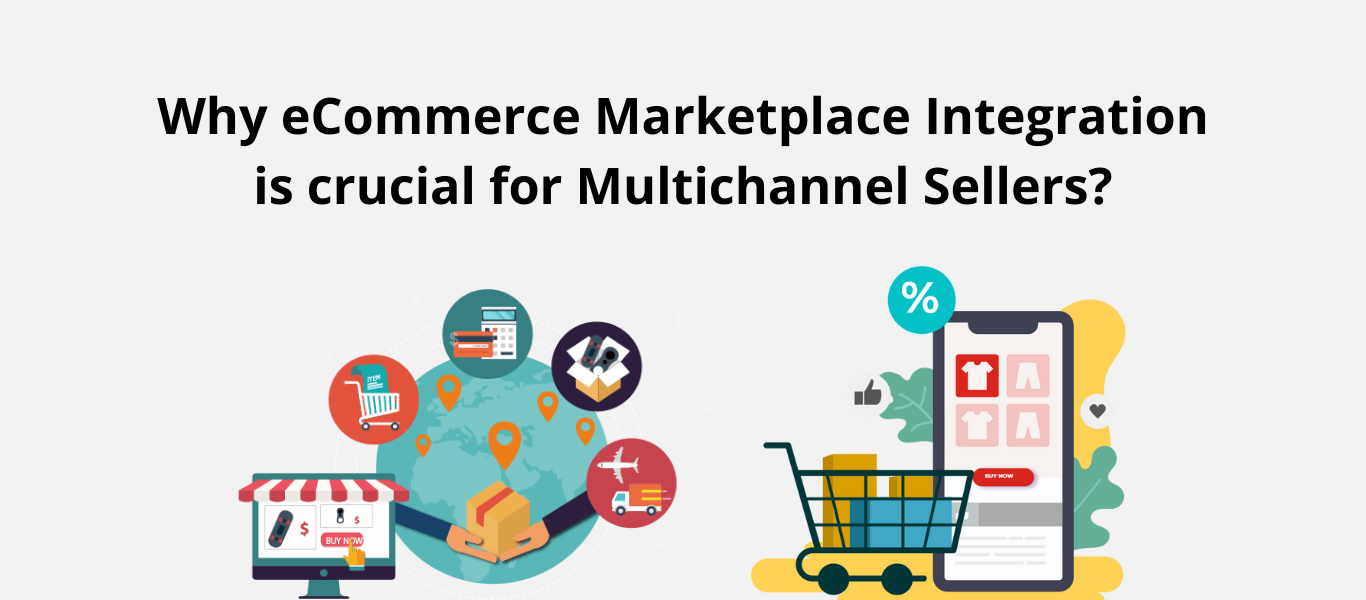 Revenue growth is critical for e-commerce enterprises. In just over a decade, the e-commerce industry has grown by leaps and bounds, revolutionising the way consumers shop. The goal of e-commerce enterprises globally today, led mostly by B2C behemoths like eBay and Amazon, is to satisfy as many customers as possible while continuously scaling up their website traffic, thereby growing their reach. To grow their business, many of these e-commerce companies are adopting a multi-channel business model, but this comes with its own set of obstacles. Lack of consistent branding and messaging across various channels; difficulty with inventory management for each channel and the risk of inventory mixup; managing multiple customer relationships across various channels, which is not only time-consuming but also expensive are some of the challenges faced by e-commerce sellers in a multi-channel model.
What is meant by e-commerce marketplace integration?
This API-based application connects various online marketplaces to a single selling platform in a two-way manner. By connecting diverse e-commerce processes, establishing linkages with inventories, and transferring data from many channels into a single operational platform in real-time, the e-commerce marketplace integration facilitates multi-channel sales.
It lets you organize your product lists across a variety of online marketplaces, including Lazada, Noon, Walmart, Amazon, and others. E-commerce marketplace integration has numerous advantages. Uploading new product details, downloading pending orders, writing invoices, producing labels, printing dispatch manifests, tracking orders and shipments, checking and updating inventory stock, and more can all be done with this tool.
What Are the Advantages of Using an E-Commerce Marketplace?
(a) It automates the selling process :
By automating the entire workflow, including product upload, figure updates, order administration, and so on, e-commerce marketplace integration removes the majority of manual operations.
(b) Increased Data Transfer Speed :
The data flow is rapid and secure because of the real-time connectivity of APIs from all seller platforms. Each data transfer request is verified. It reduces errors by removing friction in the data flow from marketplaces to online stores and inventory.
(c) There is no platform switching :
One of the most advantageous aspects of marketplace integration is that it eliminates the need to switch platforms to handle operations. Instead, all operations may be managed from a single dashboard. E-commerce marketplace integration also saves time and effort for sellers like you by simplifying the selling process. This allows you to focus on other important tasks.
(d) Expand Your Channel Coverage :
Through increased listing performance, integration improves product visibility. It allows retailers like you to connect your gateway to a variety of marketplaces.
(e) Outshine the competition :
Another advantage is that it makes it easier for e-commerce sellers to compete. By repricing products as needed, you can claim the buy box at any time. You can also control discounts and maintain uniformity across all marketplaces.
(f) Increase the visibility of inventory :
You can centralize data across all channels with multichannel inventory control software. The major advantage is that you can keep track of inventory at all of your stocking locations. If a default delivery destination is unavailable, or if the default location is an out-of-stock product, you can deliver it from the next closest location.
(g) Expand Your Audience :
Another advantage is that selling on several platforms allows you to increase brand awareness. It enables you to reach out to new consumers by exhibiting your products on different platforms and developing a brand presence across multiple channels.
(h) Make Demand Sensing Better :
Overstocking can be avoided by integrating an e-commerce platform. It occurs as a result of inadequate forecasting and data collecting, as well as poor planning and anticipation of demand fluctuations. A multichannel inventory control software gives you precise sales estimates, allowing you to avoid overabundance or undersupply situations that cut into a company's profitability.
(i) Eliminate Errors :
E-commerce marketplace integration guarantees that all processes are integrated seamlessly, reducing the risk of errors affecting your everyday operations.
What are the Characteristics of an E-Commerce Marketplace?
(a) A single dashboard :
You may assess the efficacy of your sales campaigns across several marketplaces using an accessible centralized dashboard. It allows you to keep track of the marketplace's best-selling products, account-level orders, current orders, lifetime sales, monthly sales records, and more. An E-commerce marketplace connection allows data to flow between marketplaces and inventory through a single dashboard, making it easier for you to do all of your tasks.
(b) Real-Time Information :
One of the most important characteristics of e-commerce marketplace integration is real-time communication between different platforms. It ensures that all figures are updated in real-time, including inventories, orders, and product data. It allows you to sell products across numerous channels while keeping optimal stock levels, eliminating the risk of overselling or underselling.
(c) Robotic Crons :
Automated crons are a feature of e-commerce marketplace integration that eliminates manual errors. Crons are commands that prompt the server to complete a preset task on time. It saves you the time and effort of repeating the same tasks, allowing you to focus on more important tasks. It also helps you to increase the speed with which data is sent between different platforms.
(d) Bulk Product Management and Upload :
Online shopping mall With integration, you may quickly and easily post bulk products from your online store to the marketplace. This allows you to manage your product catalog more efficiently and devote more time to other critical operations.
(e) Order management centralized :
This is one of the aspects of e-commerce marketplace integration that allows merchants to perform all types of order-related operations from different platforms from a single location, such as accept, reject, ship, or cancel orders. If e-commerce sellers cannot manage online orders on schedule, they risk losing existing or potential clients. Sellers don't have to log in to numerous platforms to manage their orders thanks to a centralized order management system.
(f) Support for multiple seller accounts :
Marketplace connection enables you to manage several accounts from the same marketplace at the same time, regardless of geographic limits. You can sell the same inventory from a single location using numerous accounts.
(g) Shipment and tracking automation :
The automatic dispatch of inventory is made easier with e-commerce marketplace connectivity. You may connect with prominent carriers using centralized inventory management software to ensure that each order is completed and products are delivered to clients on time. With a marketplace connection, you may also track a shipment in real-time. All other details, such as billing/shipping address, shipping carrier, tracking code, and live position, are given to sellers to monitor from their website once the goods are released for delivery.
(h) Live Notifications that are Automated :
The connection of an e-commerce marketplace guarantees that you receive automated live notifications on your web portal. On your portal, you can get immediate updates on any new orders received or refused, low inventory, and so on. For more live notifications, you can further customize the marketplace.
Conclusion :
Logix Platform provides an E-commerce marketplace integration for multi-channel e-commerce sellers, it allows you to sell across different channels using a single platform. It also allows you to reliably target more clients across many geographic locations and receive real-time order distribution changes. Most importantly, it eliminates the need to move between different channels manually, allowing you to post products in bulk. It allows you to devote more time to your work.