TOP 5 EMERGING LOGISTICS AND SUPPLY CHAIN TRENDS IN 2021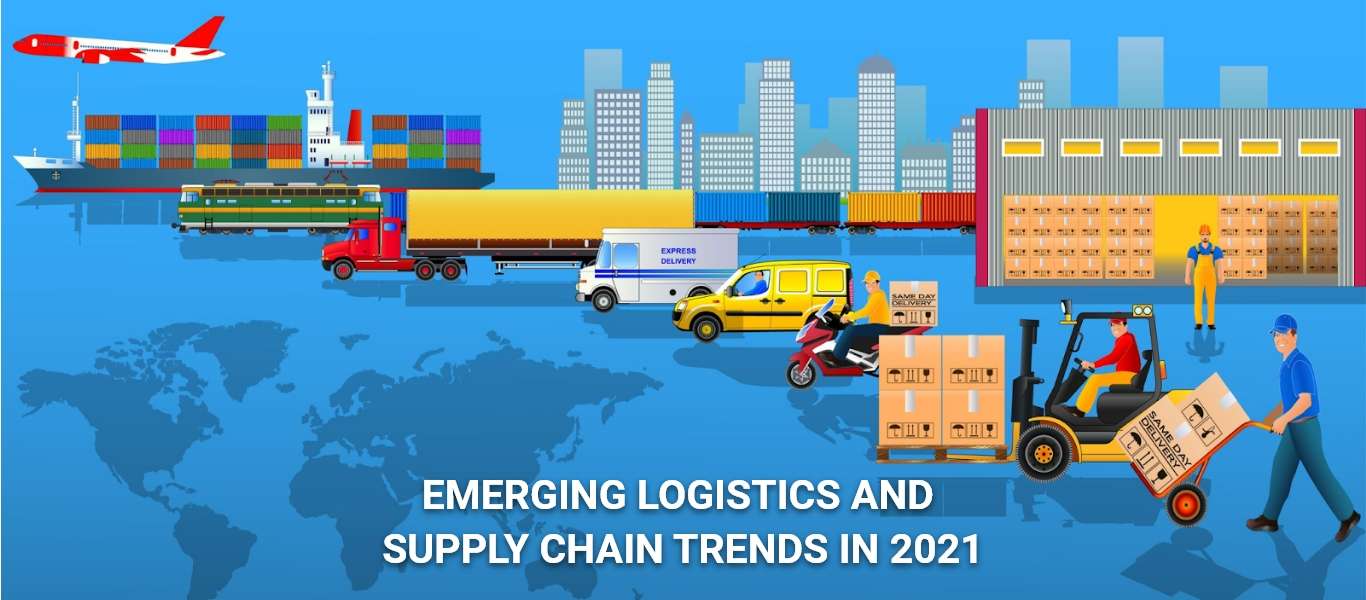 Recent years have seen massive advancement for the logistics and supply chain industry in areas like artificial and augmented intelligence, advanced analytics, and automation, to name just a few.
Companies within the logistics and supply chain sphere must continue getting ready for all of these bigger changes with innovations from automated warehousing technology to last-mile delivery solutions, here are the top 5 emerging trends in the supply chain logistics Industry you need to know in 2021.
1. Block Chain :
In 2019, worldwide spending on blockchain solutions was at 2.7 billion; before 2022, this number is expected to climb all the way to 11.7 billion (DHL and Accenture, 2018).
Blockchain has been one of the most steadily increasing industry-reshaping global logistics trends through the last few years, and its rise shows no signs of stopping.
2. Warehouse Automation :
Warehouse automation market will grow at a CAGR of 12.6% over the next five years, making automation one of the leading trends in logistics and supply chains in the foreseeable future (MH&L, 2019).
Warehouses are cutting costs by boosting their productivity and efficiency with pick and place technologies like robotic arms, automated guided vehicles (AGVs), and automated storage and retrieval (ASRS) (StartUs Insights, 2021).
3. Sustainable Supply chain management :
The buying consciousness of the modern consumer is changing. Sustainability is now a top concern of buyers and companies alike, with many buyers pushing for more transparency into supply chains and rewarding brands who showcase their progressive political stances and green behavior.
4. Last Mile delivery :
The World Economic Forum anticipates that by 2030, 60% of the earth's population will live in cities (World Economic Forum 2020) . This number is set to increase to 70% by 2050 (The World Bank 2021).
Coupled with growing e-commerce needs, expanding urbanization means that a major transportation and logistics industry trend will be last-mile delivery initiatives (Mordor Intelligence, 2021). Last-mile delivery costs account for more than half of companies' overall logistics costs (Mordor Intelligence, 2021).
5. Cloud Computing :
Cloud computing is one part of the thriving global digital logistics market. The global digital logistics market is set to grow 21.7% annually between 2020 and 2025, at which point it will be worth US$ 46.5 billion (Malhotra, 2021).
As the logistics and supply chain industry digitalizes in the coming years, cloud-based software-as-a-service (SaaS) solutions will become an integral part of logistics companies' IT infrastructures. Cloud-based logistics solutions minimize communications hurdles.
Conclusion :
Logix Platform's innovative cloud-based logistics software is capable of managing your whole logistics and supply chain operations with ease. LogixERP is fully capable of handling all aspects of your logistics business from automating operations to automating billings and accounting, invoicing and optimizing business workflows. It also comes up with e-commerce and carrier integrations to enhance your business experience.