Top 5 Warehouse Management Trends For 2022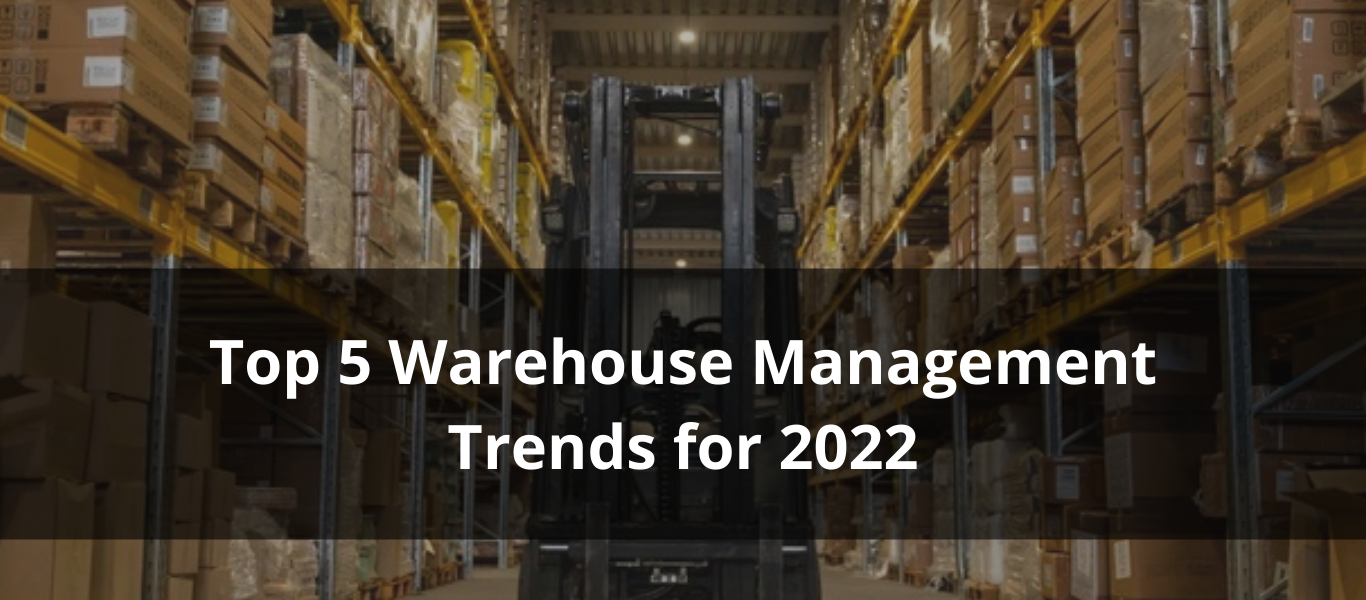 As we approach the year 2022, it is time to gear up with new business ideas and strategies that can enhance your warehousing business productivity and efficiency. While we all know how important role warehouse management plays in the supply chain of any eCommerce business, sellers often overlook staying up-to-date with the latest warehousing trends that can help them stay ahead of the game.
Implementing technology into warehouse management is going to be the most cost-effective and quickest way to increase the efficiency of your warehouse management operations. As we progress into 2022, warehouse management technologies are likely to grow by leaps and bounds.
Here presenting some of the top warehouse management trends for 2022 that are going to rule in the next year:
1. Cloud Computing :
Cloud computing has brought transformative changes to the manufacturing industry, especially when it comes to warehouse management. Adopting cloud services enabled small-scale manufacturers, retailers, and eCommerce companies to streamline their warehouse operations and drive significant cost savings. Besides, cloud-based warehouse management software development eliminates the need for maintaining complex hardware/software infrastructure, thereby keeping overhead costs to a bare minimum. In 2022, we are going to witness a widespread adoption of cloud ERP across industries for warehouse and inventory management processes. According to Statistica, the global spend on cloud computing is expected to grow from $332 billion in 2021 to $397 billion in 2022.
2. Internet of Things (IoT) :
The internet of things has gained significant traction worldwide and is quickly moving towards mainstream acceptance. Over recent years, there has been a substantial increase in the number of connected devices in all aspects of our day-to-day lives. The manufacturing industry represents a large proportion of the global IoT spend. Radio frequency identification (RFID) is an apt example of IoT in warehouse management. According to International Data Corporation (IDC), the global investment in IoT for warehouse management is expected to grow by up to 11.3 percent (CAGR).
3. Proficient Last-mile Deliveries :
Thanks to eCommerce, there is a growing need for last-mile deliveries occupying a critical position. eCommerce sales and demand for quick delivery continue to increase every year. In 2019 alone, global e-commerce sales grew nearly 21.5 percent, according to statista. In 2022, more and more business owners will be looking to provide an Amazon-Esque shopping experience to customers by working out logistics in a way that would offer same-day delivery. This kind of demand from customers will automatically increase the need for modern last-mile facilities in order to deliver easily and frequently.
4. Supply Chain 4.0 :
The advent of the fourth industrial revolution significantly improved the way we manage supply chain operations by implementing next-gen technologies like AI, IoT, blockchain, and cloud computing. As a result, it rendered complete transparency and connectivity across different SCM activities, enabling enterprises to track shipments and automate workflows. In the coming year, supply chain 4.0 is going to make steady inroads into mainstream businesses.
5. 3PL and 4PL Logistics :
We have already witnessed tremendous growth in third-party logistics across the manufacturing and supply chain industries. As of today, 3PL is one of the most extensively used logistics models across the globe. However, many small-scale enterprises continue to rely on 2PL logistics to this day. In 2022, we are going to see widespread adoption of 3PL logistics as new enterprises build trust in third-party logistics service providers. At the same time, 4PL logistics is likely to gain traction worldwide as more businesses invest in automating their entire supply chain.
Conclusion :
Warehouse management software development has come a long way with numerous technological advancements, making operations more streamlined than ever before. It is only an indication of the groundbreaking inventions that are yet to come. As time goes by, we shall see drones and robots continuing to replace humans, in return, offering more agile and streamlined workflows. Soon, we shall see machines and software algorithms collectively handling more complex warehouse operations such as storage, procurement, shipping, and more.
Logix Platform offers a complete warehouse management system as Logix WMS. It comes up with Multi-warehouse inventory management which ensures that data from all your warehouse & ordering systems are synchronized and updated in real-time.
Benefits with Logix WMS :
Get access to cloud-based WMS
Manage your multiple warehouses centrally
Complete tracking of inventories
Portal access for your customers
Generate barcode and scanning
Multiple carrier label printing
Pre-integrated accounting system
Multiple inventory reports