Top 5 Last-Mile Delivery Trends To Follow In 2022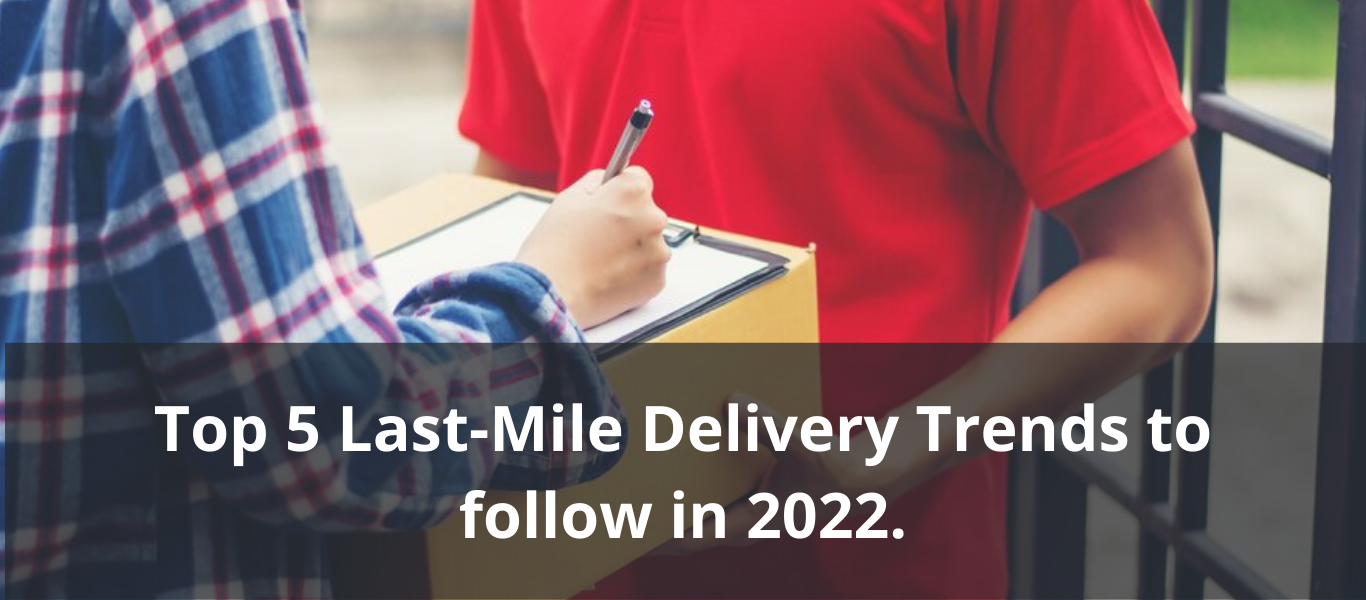 From greater reliance on online purchasing to a predilection for collection locations as a delivery model of choice, the internet has transformed consumer behaviour in ways we could never have imagined. Customers' feeling of immediacy, on the other hand, remains unchanged.
E-commerce companies are putting a lot of attention on improving last-mile logistics these days. Consumers may now simply choose where they want to order from thanks to the numerous e-commerce possibilities accessible on the market. This emphasises the importance for merchants to set themselves apart from their competition by offering the finest possible delivery experience.
What is the definition of a last-mile delivery?
The transfer of goods from a warehouse to the consumer is referred to as last-mile delivery. All stakeholders, dispatchers, and customers involved in the delivery process should have a positive experience with last-mile delivery. Businesses must be aware of ever-emerging industry trends to ensure that this service is the best it can be.
Here are the top 5 last-mile delivery trends that you should look out for in 2022 :
1. Rapid Last-Mile Fulfilment :
Gone are the days when receiving online purchases in one or two weeks was acceptable. Consumers have stated that they will only shop if fast shipping is offered, with 68 per cent stating that they will only shop if fast shipping is available. Furthermore, even with free shipping, 90% of customers anticipated receiving their packages within a week.
With its same-day shipping, larger merchants like Amazon and Walmart have upped the bar on consumer expectations. As a result, businesses must enhance their order fulfilment processes in order to satisfy increased demand.
2. Urban Warehousing :
E-commerce companies will need to start creating warehouses and hubs closer to cities as customers expect same-day deliveries. It's become critical to leverage urban warehouse space to gain immediate access to products for quick client deliveries. This not only cuts down on transit time but also makes it easier to find delivery agents and labourers.
With fewer consumers visiting physical stores, more retailers are turning them into micro-fulfilment centres and delivering purchases directly from them. According to a WSJ article, Amazon is in talks with mall owners such as Sears and J.C. Penney about converting their stores into fulfilment hubs.
3. Insourcing Delivery :
Last-mile logistics is perhaps the most expensive part of the supply chain, accounting for 53% of total shipping costs. Some merchants have chosen to handle final mile logistics in-house or collaborate with competitors in the region to share delivery fleets in order to cut expenses.
Given the fact that e-commerce is here to remain, online retailers like Kogan.com and Temple & Webster have begun to contemplate outsourcing fulfilment. Investing in in-house fulfilment is starting to make more sense as retailers attempt to grow up, although retailers have typically outsourced logistics to have greater flexibility when demand varies.
4. Drones and self-driving delivery vehicles :
Several stores are considering using drones, robots, self-driving vehicles, and autonomous delivery bots to experiment with robotic deliveries. Amazon just invested over $500 million in Aurora, an autonomous technology company. Alphabet tested Wing delivery drones to deliver components to ships off the coast in 2019.
For last-mile deliveries, a few organisations are seeking delivery bot solutions, while others are embracing autonomous robot delivery providers. However, before they can be used, new-age delivery methods will need to be approved by local governments and subjected to restrictions.
5. Crowdsourcing Last-mile delivery :
While we may be more familiar with crowdsourced logistics in supermarket or meal deliveries, more retailers are incorporating crowdsourced last-mile delivery into their supply chains to expand their reach and cut costs.
Even the big players are getting in on the act; Amazon, for example, uses crowdsourced logistics through Amazon Flex, a programme that allows the retailer to expand its reach by partnering with car owners. In a sense, crowdsourced delivery not only makes it easier for merchants to fulfil orders, but also gives them better visibility into the entire delivery process.
How does the Logix Platform help you manage your last-mile delivery Operations?
Logix Platform is an advanced Cloud-based logistics software solution that allows you to manage your last-mile delivery process very effectively in a single platform. If you're handling last-mile delivery then you will get access to a mobile app "Matrix" for assigning the deliveries and getting the delivery updates.