Top 5 Strategies to Improve Your Reverse Logistics Process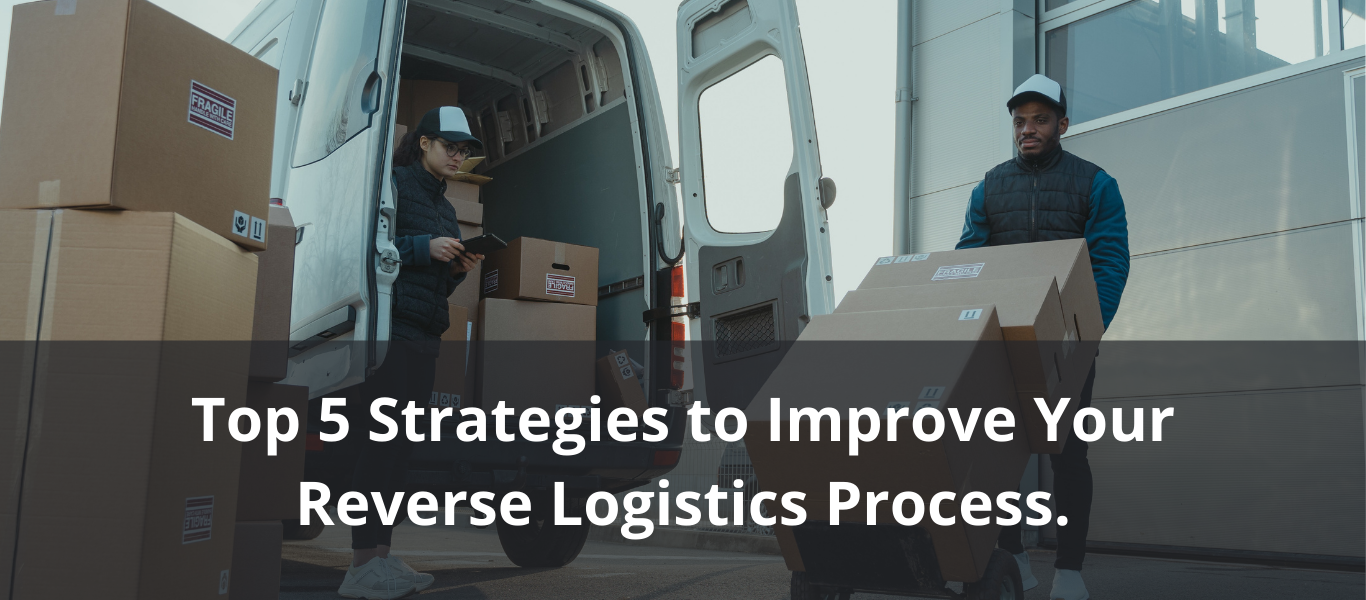 The process of planning and controlling the flow of goods from the end consumer back to the point of origin – usually the retailer or the original manufacturer – is known as reverse logistics. Today's shippers must have a well-thought-out, well-implemented method for handling the reverse flow of goods.
Reverse logistics is a difficult issue for many businesses. After all, most supply chains are designed to get products out the door, not back in. Online ordering has been simplified to a one-click operation. E-commerce as a whole has been created with the user in mind, with most firms relying on an order-management system to handle the heavy lifting.
When a company waits too long to issue a refund after a return, it can undermine its relationships with both the customer and the supplier. The way it handles returns can make or ruin a company's reputation. Returns have a detrimental impact on a company's reputation, but when handled properly, they can strengthen the company's image and encourage consumer loyalty. The way a business treats customers during the return process might be a competitive difference. If you perform well in this area, you'll see a difference in your bottom line.
Here are five techniques for implementing a successful reverse logistics strategy:
1. Understand why returns occur in the first place :
Given the high cost of returns, retailers must make a concerted effort to identify the fundamental problem. That way, they'll be able to tell if the present return policy is contributing to a high volume of costly returns.
Understanding the customer journey is an excellent method to figure out what's causing the returns. Put yourself in your customer's shoes to see what motivates them to return things regularly. In addition, you can spot patterns that could lead to policy changes or product information is clarified.
2. Put in place transparent monitoring mechanisms :
Many companies keep a close eye on their items throughout the sales process. However, they are not always aware of how the product is handled on its route back to them or a manufacturer when it is returned.
Companies can identify areas for improvement and influence overall product quality by gaining visibility into the reverse supply chain. This kind of tracking contributes to omnichannel inventory management. Tracking all aspects of reverse logistics can help determine whether a product requires sophisticated repairs or more parts, for example. Close monitoring can enable a store to decide whether to invest in a less expensive replacement part, stop stocking the product, put it on a drop-shipping list, or scrap it entirely.
3. Make a clear statement about your return policy :
It's time to focus on making returns simple for your consumers after you've implemented these reverse logistics tactics in your warehouse. This begins with explicitly declaring your return policy so that potential purchasers are aware of what to expect. Many shoppers will research a company's return policies before purchasing an item in retail, particularly online retail. You want to reassure customers that their returns will be processed promptly and paid to their accounts. Customers will understand the returns procedure better if you show them how it works using a step-by-step demonstration or guide. This will reduce delays and increase the chances of returned items arriving in good condition.
4. Return labels should be included with your shipments :
Another step you can do to make returns easier for your customers is to include return labels with each shipment. If you have the resources, make your labels "scan-based labels," also known as "pay on use labels," to impress customers. Return shipment can be costly, but the goodwill you earn by enhancing the customer experience will almost certainly pay for itself. If you're concerned about the additional expenditures, try out paid return labels as a pilot programme for a set amount of time, then conduct a cost-benefit analysis to see if they're right for your business.
5. Invest in long-lasting packaging and make sure shipments are simple to open :
If you want customers to send returns back in the original boxes or envelopes, be sure the materials can withstand a two-way journey. Cheap packaging materials, or containers that are difficult to open, are more likely to be broken, which means your goods are more likely to be harmed during the return trip. After all, few things irritate a consumer more than having to purchase their packaging to return an item they no longer want.
Are you looking for a return management system to manage your eCommerce returns?
With Logix Ecom, an advanced eCommerce fulfilment system helps you to manage your eCommerce returns with guided workflows for receiving, inspecting, and grading product returns.