INTRALOGISTICS SOLUTION FOR ECOM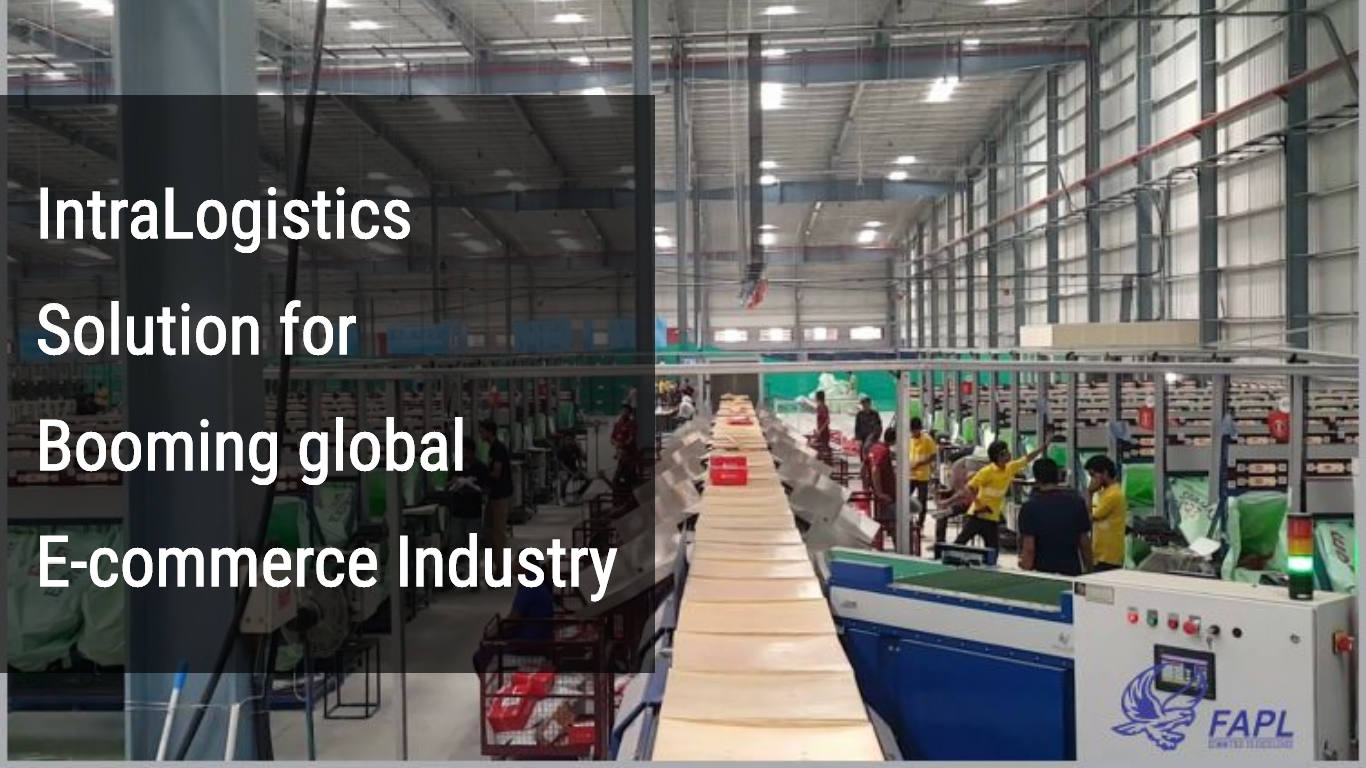 E-commerce business has been turned out to be the most emerging business in few recent years. Sales through internet is increasing at a higher rate than traditional offline retail sales. As the way technology is taking part to drive business either by providing first-rate customer service or sharp edge operations, it is to be surely said that e-commerce sector will rule in the competitive market.
1. Reasons of driving E-commerce :
Most number of investors are showing interest on internet business rather than traditional business method. Online payment method and modern wave of logistics have made internet business much easier.
Consumers are seeking for service as a priority, no-body wants to waste time and go for shopping in a mall or any traditional market place. In urban areas consumers prefer everything to be done online because tight schedule and conveyance. A general consumer would think "I will go to visit a new place with familyrather than wasting time" or "why should we go out across traffic on the road and waste fare".
Entrepreneurs are heading up to serve everything online having a knowledge about gathering more consumers on one platform at the same time and more profitability. Where they seem indifferent to do traditional store based retail business. And the same retail business gets driven when it comes online. Looking at the changing trend of shifting everything on smart phone, increasing use of internet and consumers need, E-commerce future can be estimated to be grown rapidly in near future.
As a result of recent research "Shopping 2020" conducted by the task group, it showed that the number of parcels are increasing annually with a stunning 18% on average.
2. Challenges faced by e-Commerce logistics :
While e-commerce offers online retailers a bucket of opportunities and that result reflects by their dedicative service and customer satisfaction which is a prominent vision of logistics. Few companies who are not likely to manage their own logistics and turn to third party providers to function from first mile pick up to last mile delivery and here data integration can differ the service quality.
All picking areas are connected with intelligent conveyor system in order to avoid or minimize any manual transport operation and needs for order consolidation due to pick-to-order conceptOther E-commerce companies who run own logistics they focus to make better control and accuracy of delivery – Quality service is like providing a service looking after customer patience and error tolerance. Now no customer will tolerate to receive a wrong consignment. If a customer orders a shirt and he gets a frock, then that customer will never keep any future expectation form that company.
To fight with the completion many E-commerce companies are offering free shipping services to the customers under some conditions and that suggests, logistics system for the companies should be highly reliable and economical to meet that service implemented appropriately.
A good service can be better when it creates expectations for the customers and accordingly in order to meet those expectation services also need to be upgraded. Customers seek for more visibilities and this expectation will turn in such way that just after placing order they will expect to receive shipment within next 2-3 hours irrespective of areas.
While providing the E-commerce logistics service certain unpredicted challenges appears which leads to loss of time and money for the companies such as reverse logistics. Customer will not accept any damaged/broken or undesired goods and obviously they will return it to the company so this will result a loss with much effort.
3. Technology can ameliorate E-com logistics :
Seamlessly integrated technology where shopping carts connect via API, web xml or some other connection to a logistics system so shoppers are getting the exact time of delivering the product once order gets placed.
Using new age logistics solution, e-com logistics service has improved in a good extent, logistics software companies are striving to neutralize the challenges seen in logistics and concept of data integration, customization has changed the scenario and enables 3PL logistics business.
Logistics solution such as logixERP is being able to organize and track shipment no matter in which mode shipment is moving and this service has fascinated and won the customers attention and faith towards E-shopping.
Where order management gets harder to control in big e-commerce companies and number of multitude documents becomes a challenge to maintain, now using cloud based logixERP E-commerce companies have been able to give order status online and process documents like invoice and freight service bill, warranty with a click of a button.
For better customer service technology has proved its importance in logistics industries especially in a modern trading like E-commerce industries. New logistics software reflects the future aspects of satisfying customers and improve logistics service across the globe. LogixERP tool work automatically starting from auto reminding payments, online alerts, every single movement of shipment, auto refunding status via messaging or emails.