Most 3 valuable services that 3PLs could offer for eCommerce order fulfilment process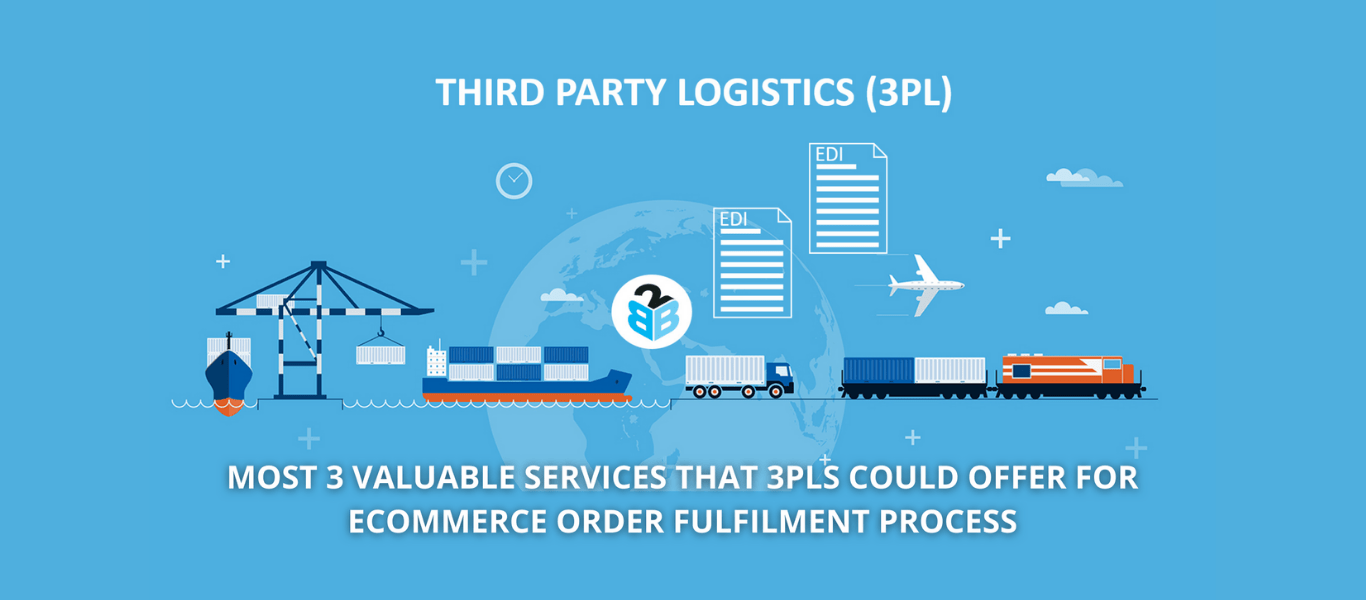 A significant portion of a business's day-to-day operations involves fulfilling customer orders. The order fulfillment process begins when the customer places an order and ends when the order arrives at their doorstep.
When a business grows beyond its capability to manage order fulfillment in-house, it might be time to consider outsourcing certain functions to third-party logistics companies (aka 3PL services).
How 3PL's handle Order fulfillment?
Receiving a third party logistics can't fulfill customer orders if they don't have inventory, so the first step in the process is moving your inventory to the third-party logistics warehouse.
After a customer places an order, the next step is for the third-party logistics to begin fulfilling the order by "picking" the item. Depending on the type of integrative technology the 3PL offers, this information can be automatically sent to 3PL or you might have to upload orders to their system manually.
Once all items in an order have been picked, they are packaged for shipping. Depending on what options for customization your 3PL offers, you may be able to choose the packaging for your orders.
After the order is picked and packaged, it is forwarded to a shipping carrier. Some 3PL companies have a preferred shipping carrier, while others compare costs to choose the best combination of price and delivery speed. In most cases, shipping carriers pick up orders from the 3PL's warehouses.
Not all orders end when the shipment hits the customer's doorstep. Returns are a significant concern for many businesses, and they can get messy if you're managing a large stock of inventory on your own. When you hand over this aspect of the supply chain to a third-party logistics provider, all returns are directed back to the third-party logistics, where they are processed, restocked, or disposed of according to your company's policy.
Three Valuable services that third-party logistics offers :
(a) Warehouse Storage :Hiring a 3PL saves you from having to find storage space for all of your inventory. Many third-party logistics providers offer shared storage, managing order fulfillment for multiple clients out of one physical location to maximize efficiency and keep costs down.
(b) Inventory Distribution :Many third-party logistics providers manage multiple warehouse locations so your company's inventory can be distributed across several fulfillment centers for fast shipment to different parts of the country. With the right technology, 3PL can automate the fulfillment process, automatically routing orders to the best fulfillment center. Third-party logistics providers make extensive use of automation like this to make inventory distribution profitable for their clients.
(c) Picking, Packing and Shipping :In addition to storing your company's inventory, a 3PL provider has staff in place to perform the specific tasks associated with order fulfillment, including picking the products in each order and packaging them appropriately for shipping.
Conclusion :
At LogixGrid , every action we take while fulfilling your order has an automatic, corresponding digital counterpart in our dashboard, which keeps 3PL order fulfillment processes efficient and consistent. Each step is directed by information that is automatically populated in the dashboard when an order is placed.
It also comes up with e-commerce and carrier integrations to enhance your business experience.
With Logix Platform, get access to eComGlobus, an advanced eCommerce Fulfillment platform that offers all eCommerce logistics solutions in a single platform to manage your eCommerce/Shopify store very easily.