STRONG DEMAND FOR WAREHOUSING IN 2021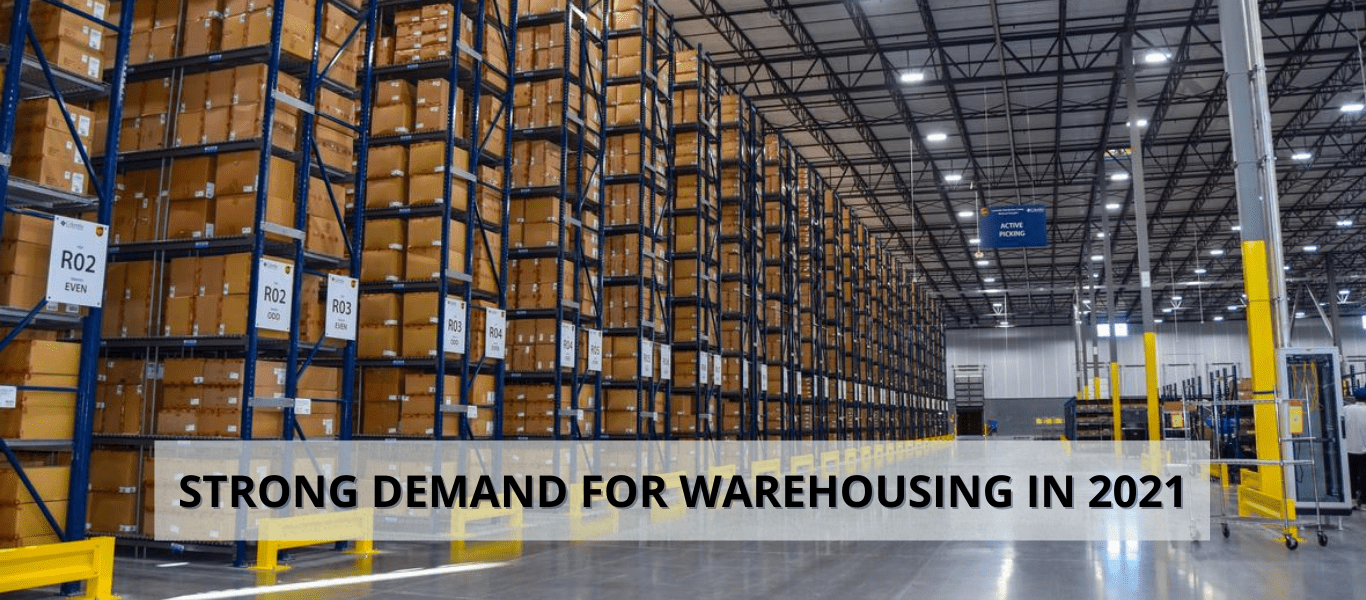 The warehousing, which comprises around 10% of the overall logistics cost, has a significant impact on optimizing the remaining 90% that includes transportation, inventory management, material handling, packaging, etc. The analysis points out that the industry is growing at a CAGR of 10.5% and is further expected to rise with the Covid-19 vaccine distribution.
The warehousing and logistics industry had an admirable run last year as Covid-19 forced businesses to focus on continuity plans and supply chain constraints. The growth momentum is expected to continue in 2021 as sectors like e-commerce, FMCG and pharmaceuticals look to penetrate deeper into tier II and III cities.
Logistics players and analysts are convinced about the sector's performance as they say that e-commerce firms will continue to push for cost-efficient and swift last-mile delivery. Besides, the growing demand for cold chains, and with India vying to be a manufacturing hub, the requirement for large automated warehouses and omnichannel logistics solutions will continue to grow.
As per Savills India, industrial and warehousing space absorption is expected to grow 83% y-o-y to 47.7 m sq ft in 2021, driven by robust growth in e-commerce and manufacturing.
This would be driven by the challenges customers faced and had to overcome in 2020, which made it clear for many organizations, especially SMEs, that having the right partners to support their supply chain and logistics needs is a must to enable growth without disruption.
Customers will engage partners who can bring stability, scale and sustainability. There would be a clear shift in customers' long-term strategy to make some changes to adjust to new norms, which includes an increase in inventory holding and reducing supply chain costs. Customers will also continuously look out for reliability in service and ability of this segment to scale up and down without incremental costs, he added.
Warehousing demand in post-Covid-19 scenario would follow a hub-and-spoke model, largely with product companies focusing on reducing inefficiencies in the supply chain, which happen due to the bullwhip effect, by increasing availability of their products closer to consumption points, he added.
Omni-channel strategy has now become central for most of the companies which are into retail, FMCG and pharmaceuticals and has given a big opportunity to third party logistics (3PL) providers.
Growing demand for cold chain, pharmaceutical warehouses as well as growth in e-commerce and organized retail are likely to drive warehousing demand in 2021. In addition, strong macroeconomic fundamentals and government's policy support in implementation will continue to fuel growth for the entire sub-asset class of industrial and logistics.
Warehousing players have started to invest more in automation and mechanization for contactless operations. Some of these warehouse technologies are smart analytics, warehouse management system, warehouse mobility solutions amongst others.
For efficient operations, the Indian warehousing sector is gradually shifting to the Internet of Things (IoT). The industry has also started integrating sustainability into its standard operating procedures. Companies are adopting designs and practices that reduce their carbon footprint and operating costs.
The warehousing and logistics market in India started gaining impetus with the highest supply and absorption. The demand is expected to increase in 2021 and reach close to 35 million square feet of absorption, almost similar in line with 2019 levels, supported by growing demand in sectors such as 3PL (third party logistics) and e-commerce. 3PL has become one of the fastest-growing segments in the warehousing space, contributing nearly 35 percent of total net absorption in 2020.
Conclusion :
Logix Platform is a cloud-based ERP software which is a modern age ERP system that manages your logistics, warehousing and transportation operations without hassle. With Logix WMS, get access to integrated, cloud-based and customizable WMS that helps you manage and automate inventories with optimized functionalities. Logix Platform is fully customizable according to your organizational needs. It comes up with e-commerce and carrier integrations to enhance your business experience. Our major eCommerce business partners are Shopify, Magento, opencart, and woo commerce. We also have more than 40+ major carrier partners like FedEx, Aramex, DHL, and UPS.