5 Ways To Simplify Your Logistics Operations With 3PL Software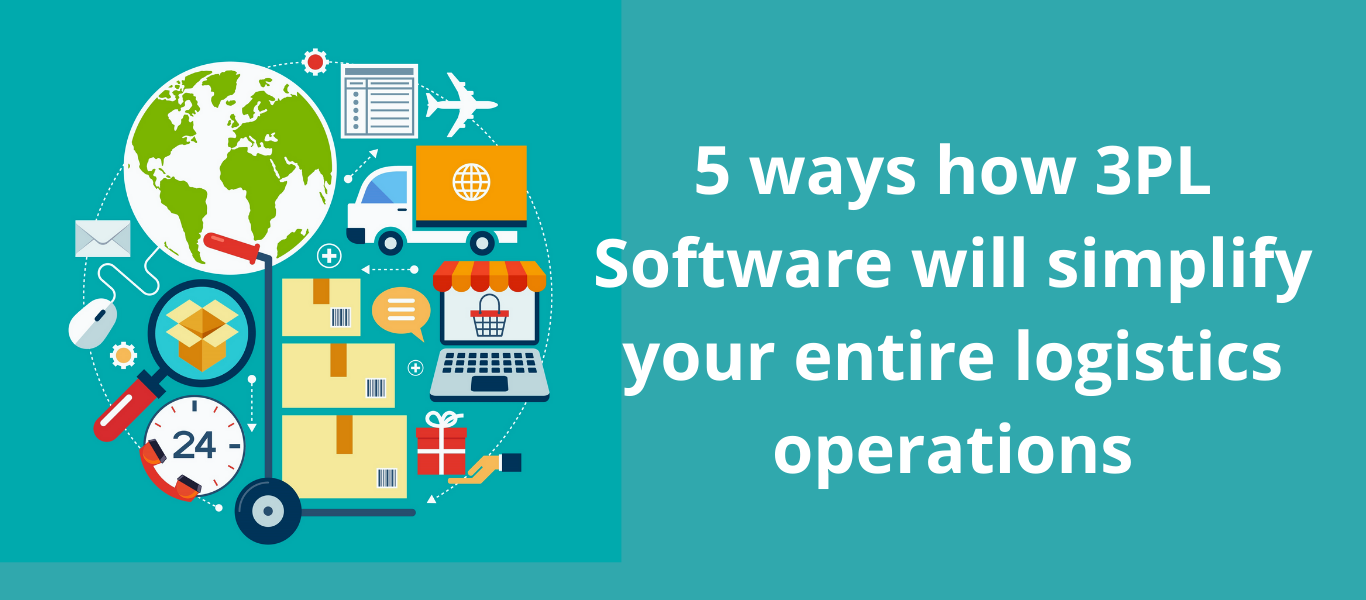 As a third-party logistics company, you're the glue that allows your customer's orders to become on-time deliveries. More than that, you're providing storage and inventory reports and insights, providing order updates and dispatch tracking, often with cross-docking, on-forwarding and more. This is why you need to know your 3PL logistics management system can keep things running smoothly.
With an integrated WMS/TMS 3PL logistics management system, you can automate data input, improve picking efficiency, optimise driver routes, and more. From quick and easy customer sales data entry to more effective and accurate operations to giving up-to-date customer inventory reports at a moment's notice, we've got you covered.
Here's how your 3PL warehouse and transportation system should be optimising operations at every turn, increasing efficiency and allowing you to simplify operations :
1. Invoices will no longer be a hassle :
You can invoice faster and get paid faster with LogixPlatform. Your customers' sales orders are automatically entered into your 3PL WMS using data from their preferred sales system (e.g. Shopify), accounting software, or email attachments. You may link sales orders and consignments to generate a single invoice, which is then instantly recorded and delivered to your customer, thanks to automated rates in both WMS and TMS.
Instead of printing invoices and spreading them over pallets and freight on the dock, have your customers email invoices straight to LogixPlatform, which will read the invoice and match it to the consignment in the system. This means you can assign online and then print (the invoices will print in drop-order by default because we're in the business of making your life easier).
2. Workflows that are adaptable to your company's needs :
Make it your own. Streamline your warehouse operations with flexible processes that allow you and your team to pick and pack goods as quickly as possible. You can choose from three different wave picking workflows: picking for orders, picking for customers, and picking for products, allowing you to maximise the productivity of your picking workforce while conserving time and resources.
You can use stock selection to determine to pick based on inventory parameters such as First In First Out (FIFO) or First Expired First Out (FEFO), allowing you to plan for warehouse storage and location based on incoming orders and inventory requirements.
3. Improve delivery efficiency by optimising transportation :
You can take transportation and dispatch to a new level using LogixPlatform. TMS features and Mobile app. Set up rules to automate work sorting and optimise delivery routes to increase driver productivity on the road. Ensure that all paperwork and delivery data are documented using electronic Proof of Delivery (ePODs), and if necessary, allow drivers to add comments and images to their ePOD. Streamline deliveries using driver ETA text messages, which allow drivers to notify clients ahead of time about their upcoming delivery so they can prepare.
4. WMS and TMS operations are seamlessly linked :
With a single login, you may access all of the features of a specialised TMS and WMS system. The benefits of a linked WMS/TMS don't stop there! We would integrate sales orders from warehouse to transportation, with automatic rate calculations so you can issue a single invoice per client — but the advantages of a linked WMS/TMS don't end there!
You may save time on customer data input/updates by streamlining your data between WMS and TMS. Simply enter your client details into the system once, and they will apply to both! From warehouse to delivery, intelligent Unit of Measure mapping means you only have to enter products once, and exact rates are automatically transferred between systems. Needless to say, you can access all of your data and information from a single login that connects you to both systems.
5. By doing nothing, you can provide greater customer service :
Finally, in order to deliver excellent customer service, your 3PL warehouse/transport management system must be operational. The best part is that you can improve your customer service by using LogixPlatform to provide real-time inventory reports, stock movement, thorough invoicing, ePODs, and more… all without having to do anything.
Your customers may go into LogixPlatform at any time and monitor their inventory data, order fulfilment progress, and more through their LogixPlatform client dashboard. The advantage of a cloud-based solution is that your data is always up to date.
Choose LogixPlatform: The best 3PL Software
LogixPlatform is the most popular platform for 3PL businesses to streamline their operations and satisfy ecommerce demand. Here are some reasons why you should use LogixPlatform to run your 3PL business :
Dashboard for customers : From their browser, your customers can access their own dashboard, order view, inventory view, and reports. The user interface is customisable and may be altered to match your branding.
Visibility of Inventory : Give your customers real-time inventory information, low-stock alerts, and the option to place purchase orders at any moment.
Software for order management : Any order's status can be quickly found, modified, or viewed by your customers' support team. Your customers can simply anticipate any complications with their orders with LogixPlatform, ensuring that their consumers are satisfied.
It's simple to automate : Create rules that define how orders are prioritised, managed, packaged, and sent based on any number of circumstances.
Get in touch with our experts to schedule a free demo and witness our product in action!