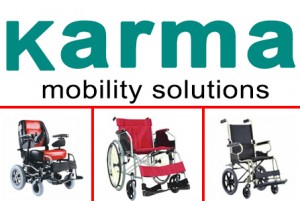 Established in 1987, Karma Medical Corporation, headquartered out of Taiwan, has been providing mobility solutions for the physically challenged in over 40 countries. Products like manual wheelchairs, power wheelchairs, and scooters produced by the company have enabled the physically challenged to enter mainstream living and aspire to a more active lifestyle. The company works in close collaboration with therapists in Australia, France, Japan and the UK.
In India, the company operates as Karma Healthcare Ltd., based out of Kolkata. Company has 17 branches across India.
Business Challenge
Karma Healthcare sales team visit retail stores for taking orders. Order collected are then send to Head Office Kolkatta for further processing. Once orders are processed at the Head Office, details are forward to respective warehouse for the ordered products to be delivered to the client.
Order collection, Delivery, Payment collection are currently manage manual on emails & excels. The process is slow with good chance of human error at every step. Manual tracking every order delivery also put lot of pressure on Karma's warehousing & logistic team.
How LogixGRID addressed the challenge
LogixGRID offers to Karma its Order Collection and Delivery System. Using Clobz Sales Android app Karma's sales team visiting retail outlet is able to take customer order using mobile phone. Order created in the Mobile app auto-push Karma's ERP – Thus, bypassing manual order processing flow. Once Invoices are generated in Karma's ERP, details of it are sent to respective warehouse. LogixERP, delivery system is used for assigning the delivery to delivery van. Payment collected on delivery are processed using LogixERP accounting module.
Benefits realised
Less manual efforts in order management
Head Office is able to monitor cash statement of every warehouse
Convenient access to clients histories helps in future projections
---
WHAT THE CLIENT THINKS ABOUT?

We are using Clobz Sales for our Sales person tracking, expenses reporting, warehouse bill submission, sales person visit reporting etc. We have satisfied with the product and support service. The system is beneficial for us and help us to reduce our manual work in courier, phone calls etc.Randheer
Karma Healthcare
---
Explore possibilities with LogixERP
Cloud ERP For Logistics