Top 5 Key Trends of eCommerce Logistics to follow in 2021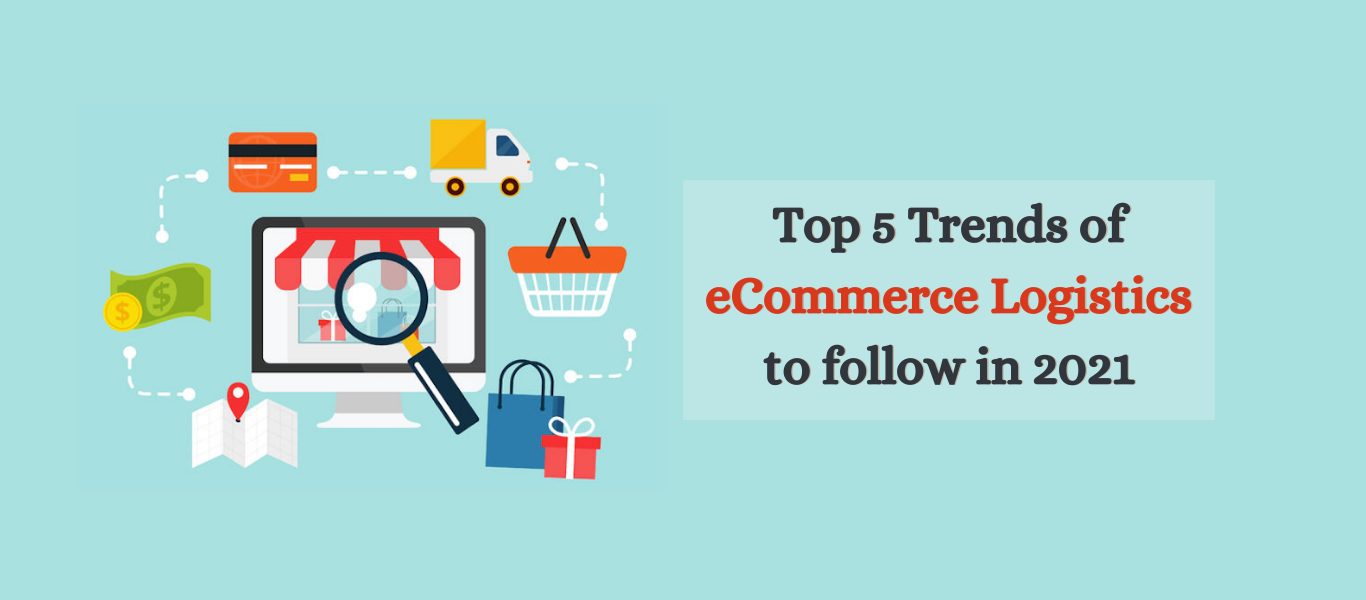 Ecommerce has become an essential part of the global retail framework in recent years. Like many other industries, the ecommerce landscape has changed dramatically since the outbreak of the COVID-19 pandemic. According to Shopify, at the height of the pandemic, 10 years of eCommerce growth happened in just 90 days. Statista reveals that over two billion people purchased goods or services online in the same year.
Therefore, the competition between online retailers has never been this heated. In this ever-changing eCommerce environment, brands should keep up with the latest trends and updates in their respective areas and implement them into their business models in order not to fall behind.
Faster and Flexible delivery options :
According to a report by Walkersands, 79% of US consumers are more likely to shop online if they are given a free shipping option, and 54% of US consumers under the age of 25 would prefer the same- day delivery option. On top of that, around 62% of US consumers will readily pay a premium to get their orders shipped the very same day.
Having better and faster shipping options not only increases your bottom line but also provides a positive customer experience. For this kind of trend to work for your eCommerce business, first, understand your customers' shipping expectations from you by conducting a survey. After the survey , you'll be able to offer the right shipping options with the help of timely delivery extension, and accordingly, you can make changes to your logistics system.
Direct to consumer D2C Fulfillment :
For e-Commerce businesses , victory is not achieved when an order is placed into the shopping cart, but only when the product is bought and paid for. As online retailers try to meet consumer expectations, there are many considerations to take into account when choosing an e-commerce fulfillment model.Factors like technology adaptability, customer service, growth potential, ease of inventory adding, inventory management, and more.
This model has gotten more traction after the launch of Amazon's Seller Fulfilled Prime, which enables its sellers and merchants to ship directly to the customers eliminating the middleman.
Cross- Border shipment :
Cross- border e-commerce shipment is another trend that has gained large popularity among customers due to many reasons. Today consumers would choose to buy international products because of the reasons such as easy & flexible shipping options, payment methods, product quality, etc., Cross-border e-Commerce shipments benefit retailers as they get the opportunity to reach new customers throughout the world.
Since online consumers can choose to buy products from international sellers from anywhere on the globe, retailers have felt the need to make global shipping easier to execute in a world wide market.
Cross border e-Commerce benefits the retailers as they get the opportunity for selling products internationally throughout the globe and by improving their brand awareness in the international market.
Smart Solutions for Shipping Returns :
Since the number of people shopping online is increasing and will go on increasing in the future as well, eCommerce businesses will have to plan and deploy smart solutions to manage their returns.
Smartly handling the returns might help you retain a customer that might have had a bad experience with your product or overall experience.
Before anything, ask yourself if you can afford to offer free returns. If you do not, then make your return policy transparent and easy to understand. Most importantly make sure the experience of your customers with the returns is as stress-free as possible.
Robots & Drones for Product Delivery :
Technavio market research report suggests that the autonomous delivery market is poised to grow by USD 16.86 billion during 2020-2024. Chinese e-commerce companies are also deploying robots to deliver orders in an effort to prevent the spread of the deadly coronavirus.
These drones are expected to revolutionize the last mile delivery, which usually costs businesses a lot of money. Not only that, but they can also help in improving the customer satisfaction levels.We can't deny the fact that adapting to this trend will require a lot of capital, but the expected ROI is also quite high. Plus, you can expect better customer loyalty because, well, it's 2021, and they'll be receiving their parcels from a drone, just like they imagined.
Conclusion :
Do you need to improve your return management, fulfillment models, or delivery options? It's never too late to catch this latest e-Commerce trend. As Logix Platform, we offer the world's simplest Cloud-based ERP software to automate an Augmented Reality solution for businesses. To elevate your customers' online shopping experience in a fast and effortless way, you can get in touch with our team and see how we can help. It comes up with e-commerce and carrier integrations to enhance your business experience.Our major eCommerce business partners are Shopify, Magento, opencart, and woo commerce.
With Logix Platform, get access to eComGlobus, an advanced eCommerce Fulfillment platform that offers all eCommerce logistics solutions in a single platform to manage your eCommerce/Shopify store very easily.