WAREHOUSE AUTOMATION AFTER COVID-19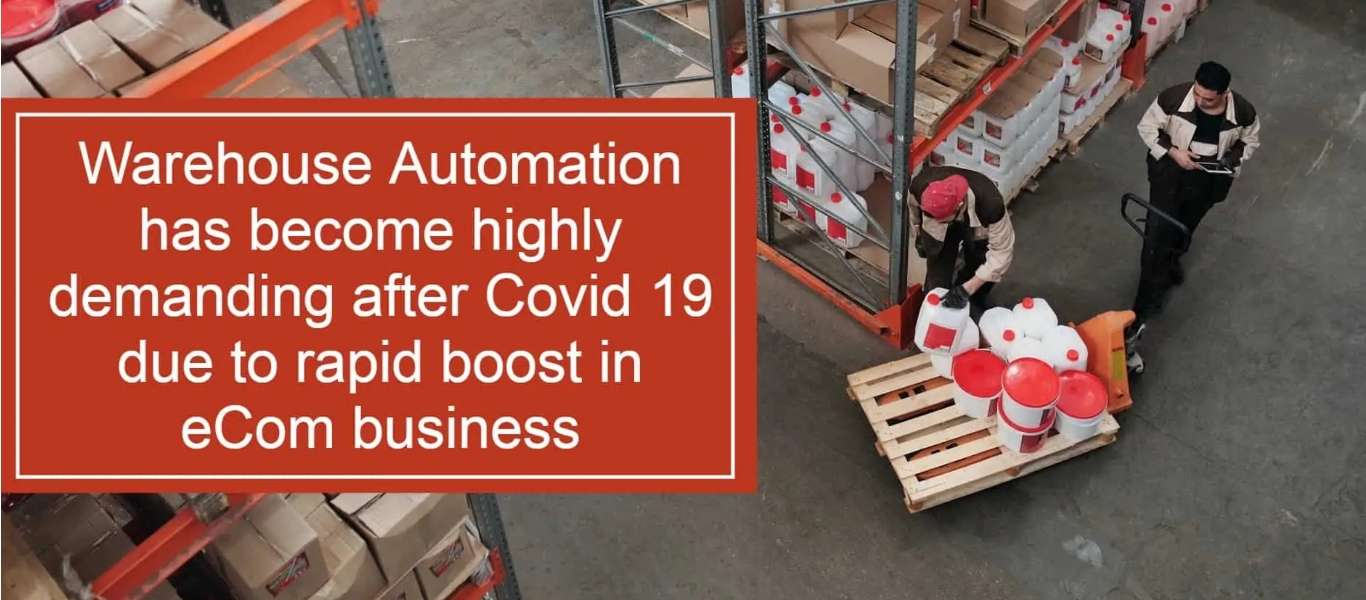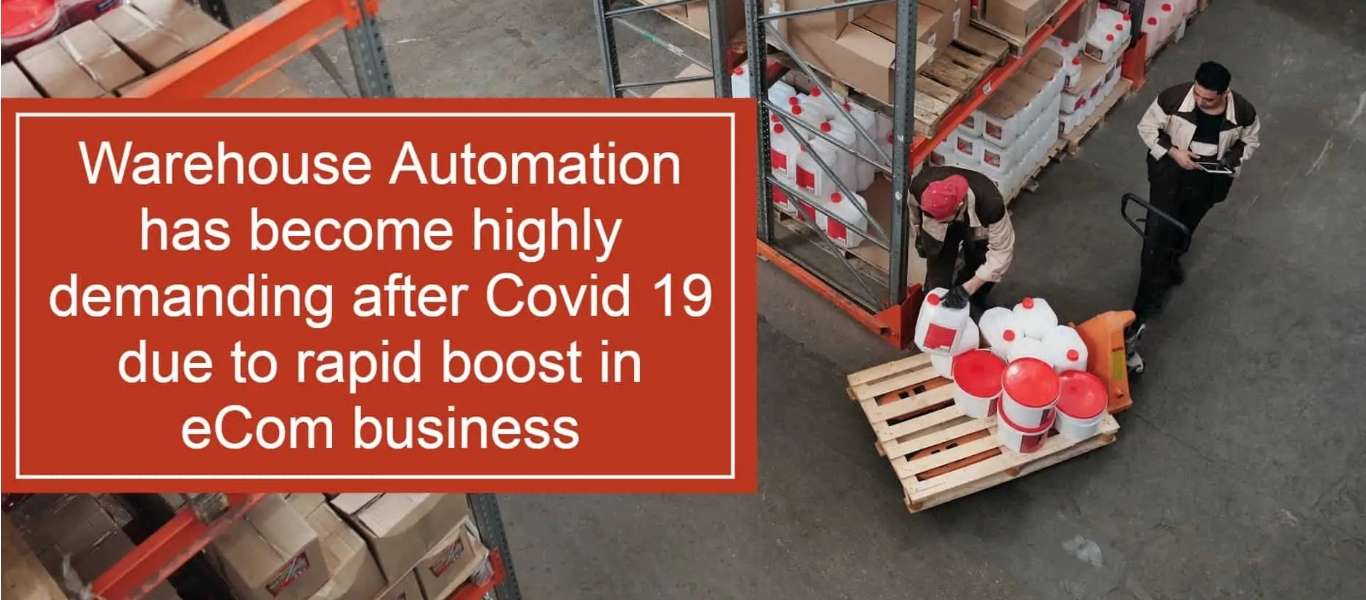 Warehouse automation is the process of automating the movement of inventory into, within, and out of warehouses to customers with minimal human assistance. As part of an warehouse automation project, a business can eliminate labor-intensive duties that involve repetitive physical work and manual data entry and analysis. The push to warehouse automation and distribution centers is on ascend as more organizations search for ways to manage social distancing rules, remote workforce and other new difficulties.
A year that brought with it a whirlwind of uncertainty has likewise put a greater focus on the utilization of automation in warehouses around the world due to rising eCommerce transactions.
1. The technology valuation process :
While evaluating warehouse automation frameworks and solutions, organizations have some reasonable plans at the top of the priority list. Most need great durability and up-time, Others cautiously survey total expense of possession, return on investment (ROI) and maintenance costs, with extra contemplation including price tag, parts accessibility, risk of obsolescence and integration /compatibility with existing systems.
2. Dealing with disturbance :
Considering the coronavirus outbreak, organizations expect to change their plans for buying warehouse solutions, while some are uncertain of their way ahead though a few organizations despite everything intend to finish on their forthcoming buys, obviously Covid-19 has made a situation of uncertainty.
3. Rise in Order fulfillment trend :
Currently, order fulfillment operations are taken care of generally or totally manually, a number that tumbled from earlier. As far as to order fulfillment exercises, most organizations use warehousing and storage; full and mixed pallet load fulfillment; and individual pick, pack and ship wholesale distribution. Organizations presently need to execute or improve current individual pick, pack and ship e-commerce business fulfillment activities, while some are generally keen on upgrading their order customization, repacking and value-added services.
4. The quest for more data :
Inside the warehouse, the well-known data collection innovations by far are bar code scanners and mobile/wireless technologies. RF terminal technologies and pick-or put-to-light picking utilization remain modestly popular. Within the upcoming years, organizations intend to execute pick-or put-to-light technology. RFID is likewise expanding as a popular choice. Voice-directed picking technology and heads up display & vision innovations are additionally working their way into more warehouses. Organizations intend to implement mobile and wireless innovations.
For warehouses, transportation management systems (TMS) saw the greatest increment in current use. Warehouse management systems (WMS) still remain the most mainstream software choice. More organizations are currently planning to implement WMS and need to add a labor management system (LMS) and TMS. At present, numerous organizations utilize an enterprise resource planning (ERP) system and are expanding quickly. The utilization of order management systems (OMS) additionally observed a critical raise. Other well-known supply chain management systems incorporate customer relationship management (CRM), supply chain planning (SCP) and distributed order management (DOM) are also in demand.
Facts to Know
1. Global e-Commerce sales have grown at a CAGR of 20% over the last decade, reaching ~$3.5 trillion worldwide in 2019 and expected to grow to ~$7.5 trillion by 2026. The share of online retail sales has gone from ~2% of the total to ~13% and is further expected to reach ~22% by 2026. Existing fully automated systems can reduce warehouse-related labor costs by up to 65% and logistics-related spatial use by up to 60% at the same time as it increases the maximum output capacity.
2. The adoption of technology is by no means uniform. While one-hour delivery is available when buying online in some parts of the U.S. and Europe, the average promised delivery time in Brazil is nine days. JD.com had a record-breaking Singles Day in 2019, with transaction volume exceeding CNY204 bn (US$29 bn), up by 27.9% on the previous year. Logistics played an important role, with 90% of areas achieving same-or next day delivery and a 108% YOY increase in the number of orders fulfilled by automated warehouses.
3. Amazon Robotics automates the company's fulfillment centers using more than 200,000 autonomous mobile robots, up more than 600% from 30,000 at the end of 2015. Last year, DHL announced an investment of $300 million to modernize 60% of its warehouses in North America with IoT and autonomous robots. The company also committed deployment of 1,000 LocusBots for delivery fulfillment. The funds are earmarked to bring emerging technology to 350 of DHL Supply Chain's 430 operating sites.
4. Warehouse labor shortages are also an issue with peak labor demands occurring around major shopping holidays viz. Black Friday, Cyber Monday, Amazon Prime Day, Thanksgiving Day and Singles Day. Warehouses have to hire temporary labor around these peak times to meet the customer delivery schedules. Supply chain robotics company Cainiao has installed 700 robots at China's largest robot-run warehouse to process orders on Singles Day.
Logix platform Benefits :
With LogixGRID'S smart logistics solutions companies can easily choose from a vast range of supply chain management solutions to automate their warehousing. Multi integration and easy functionality make the solution renowned globally.
It comes up with e-commerce and carrier integrations to enhance your business experience. Our major eCommerce business partners are Shopify, Magento, opencart, and woo commerce. We also have more than 20+ major carrier partners like FedEx, Aramex, DHL, and UPS.
Are you looking for best eCommerce Fulfillment software to manage the logistics operations of your eCommerce/Shopify stores?
Presenting eComGlobus, an all-in-one eCommerce fulfillment software that helps you manage the logistics operations of your Shopify Store easily in a single platform. With eComGlobus, get access to a dynamic, easily configurable and cloud-based WMS that connects your picking, packing and shipping processes with your entire eCommerce operations.