Why do you need an eCommerce Fulfillment software to improve your eCommerce business?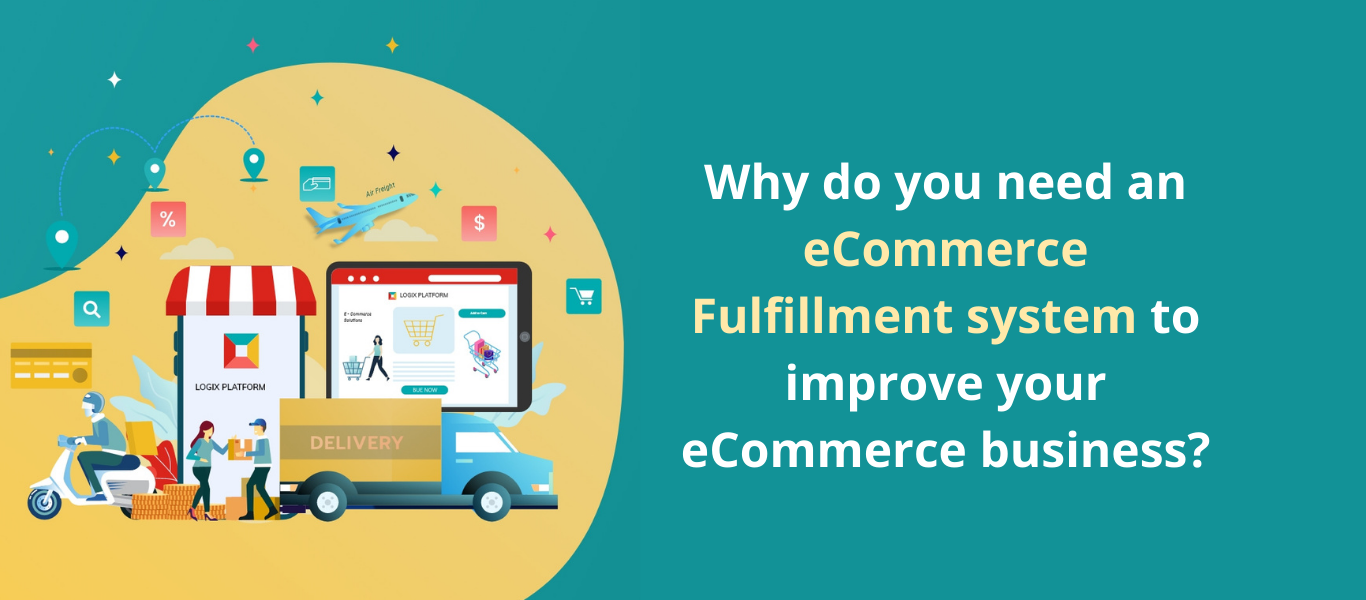 Ecommerce businesses were responsible for around $4.5 trillion in sales in 2021, and that number is expected to reach a whopping $7.5 trillion by 2023. There are millions of growing online businesses out there contributing to these high numbers. But, while it's clear there is a lot of competition in this industry, even the biggest eCommerce companies in the world like Shopify, Amazon, Magento, eBay.
Did you know :
61% of shoppers will abandon their cart if shipping, taxes, and other fees are too high, 53% of shoppers say that speed of delivery is an important factor, 38% of shoppers will never shop with a retailer again if they had a poor delivery experience & 25% of shoppers have canceled an order because of slow delivery speeds.
Why? – You could have the best product, website, and eCommerce platform in the world – but a poor fulfillment experience could ruin your customer experience and the potential for future revenue from repeat buyers.
How? – Let's look at the major reasons you need an effective fulfillment system!
Key reasons you need Effective eCommerce Fulfillment service :
(a) To Align with Consumer Preferences : Thanks to modern technology, consumer preferences have shifted over a couple of years. Now that Amazon Prime-speed shipping is the new norm, consumers have higher expectations than ever on delivering timelines.
As a result, when someone buys online, no need to wait a week to get their package- they're expecting it within a few days tops.
In fact, 47% of respondents in a recent study said they would be willing to pay extra for same- or next-day delivery and a whopping 74% of consumers who received same-day delivery said they'd be more likely to purchase from that company again.
Your eCommerce business moves fast, so you need advanced eCommerce fulfillment software to manage your eCommerce logistics requirements effortlessly. If your shipping speeds are slow, your customers simply won't buy from you again. Instead, they'll turn to the competition who can deliver literally on the shipping timelines they're expecting.
(b) To Improve Accountability : Today's consumers are also demanding more transparency and accountability from the brands they buy from. For example, let's say your website boasts that you have guaranteed two-day shipping. If your eCommerce fulfillment company isn't actually able to deliver on that timeline, your customers won't be very happy when they're sitting around waiting for a package they expected to arrive days ago. If they decide to call you up to inquire about where their package is, but you aren't able to tell them because your fulfillment provider doesn't give you visibility into their shipping processes, they'll be even less thrilled.
This negative customer experience can prevent your customers from ever buying from you again. Furthermore, they could leave a negative review online about your slow shipping speeds, lack of transparency, and unkept promises that could prevent new customers from giving your eCommerce business a chance. So, the key here is to not make promises you can't fulfill. Working with a fulfillment provider who can guarantee predictable, accurate, and timely fulfillment will ensure full visibility equals a better customer experience—resulting in happier customers and more positive reviews.
(c) Better Customer Experience : With millions of eCommerce businesses out there, you need a way to differentiate. By aligning your eCommerce fulfillment services to meet modern consumer preferences (like the fast shipping speeds and increased transparency we just discussed), you can deliver the customer experience your buyers are actually looking for. This can give you a huge competitive advantage over other eCommerce businesses who are simply ignoring changing consumer preferences, or simply don't have the resources to meet them.
Providing a smooth, seamless customer experience is so valuable because it can turn one-time buyers into repeat, loyal customers who are advocates for your brand. After all, if a customer has an amazing experience buying from your brand, next time they need something you offer, why would they even bother looking at the competition? This can help you drive additional revenue through repeat business, making it possible to meet your business growth goals sooner!
(d) To Improve Efficiency While Decreasing Costs : Robust eCommerce fulfillment processes will help your business become more efficient while saving you time and money. Plus, a positive fulfillment experience that translates into a great customer experience will help you attract new customers and better satisfy your existing ones. Between the cost savings of outsourcing effective eCommerce fulfillment services and the additional revenue from repeat customers, you can put that extra income back into your business.
For example, you could invest in developing a new product, increase your marketing budget, hire additional employees, or allocate more resources towards your customer service initiatives. At the end of the day, eCommerce order fulfillment isn't just about shipping products. If done correctly, it can be a powerful way to realize higher profit margins that makes it possible to expand your business faster and with ease!
Benefits offered by Logix eCommerce fulfillment Software :
Logix eCommerce fulfillment system that supports easy integrations with a variety of eCommerce marketplaces helps you manage your eCommerce business very easily.
Here are some of the benefits offered by Logix eCommerce Fulfillment System :
1. Cloud-based eCommerce fulfillment system : Logix eCommerce fulfillment running on AWS cloud system to secure durable and scalable infrastructure which eases eCommerce workflow in regards to logistics activities associated with delivering the shipment and providing a transparent process to connect with the suppliers.
2. Inventory management : Are you selling through multiple e-stores? If yes then, you can track your inventory from all your sales channels through the Logix eCommerce fulfillment system with full visibility and control over your inventory.
3. API Integrations : With Logix Platform, accelerate business through the API integrations which allows the system to easily exchange information with different ERPs/WMS/Supply Chain Solutions.
4. Customized System : We offer a customized fulfillment solution that enables you to customize the system as per your business needs and help your brand showcase and create its own unique story.
5. Return Management : Logix eCommerce Fulfillment system offers return handling. The system can auto-detect defective or excess products back from customers and support customers who have problems with delivered products.
To enhance your customer's experience in a fast and effortless way, you can get in touch with our team and see how we can help.