UNION LOGISTICS BUDGET 2020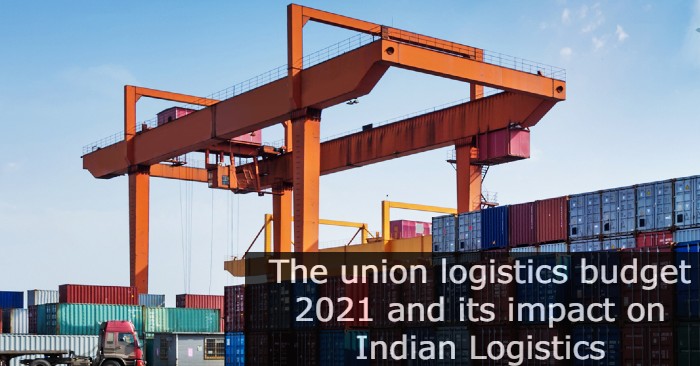 Many Logistics companies are pleased with the logistics budget that was in line with their expectations. However, the industry is waiting to see the results of these measures in their field of work.
The union budget 2021-22 presented by finance minister Nirmala Sitharaman in the parliament increased the infrastructure spending significantly with focus on New Economic Corridors, improved roads.
1. Existing Scenario of the Union Logistics Budget 2020 :
India 's Logistic sector is pegged at USD 215 billion and as per a study by the IBEF, the sector is expected to attract investments worth USD 500 Billion by 2025 . Having received the infrastructure status in 2017, the sector has also been a massive employment generator , estimated to employ up to 40 million people by the end of 2020.
The domestic sector is set to grow at 8-10 percent over the medium term with the outlook remaining largely stable, as per ratings agency ICRA.
2. Challenges in India's Logistics sector :
Despite these encouraging numbers , Logistics still continues to be marred with challenges, the biggest among this being the cost for transportation.
After the Logistics Budget 2020 the Indian Logistics sector costs come to about 14% of GDP, which is considerably higher compared to logistics costs in developed countries.
Higher Logistics costs lead to higher export costs, which directly impacts the competitiveness of Indian goods in international markets.
3. Benefits of the Union budget 2021 for Indian logistics :
New economic corridors, better road infrastructure : Proposal to boost operational contingencies of road infrastructure and build more economic corridors have the potential to increase efficiencies across the logistics ecosystem.
More money for Dedicated Freight Corridors : Placing a priority on the commissioning of the eastern and western dedicated freight corridors has been one of the key highlights.
Digital technology got a push : The Continued focus of a digital India with the introduction of a RS.1,500 crore scheme on digital payment which will help smoothen the customer interface for logistics companies.
Support for more Indian flag ships : A new scheme announced to be launched for flagging of merchant ships in India by providing subsidy support to Indian ship owners.
Sustainability, green energy : Intention to increase the share of green energy in the national energy grid and transition to a zero carbon fuel regime is in line with its steadfast commitment to sustainability.
Logix platform is designed in such a way to support the operations of the logistics industry with the future proof technology and profit gainer in stand all the complications with ease. LogixGRID will create better connectivity for the global market and logistics sector and can benefit from every single port and investment.